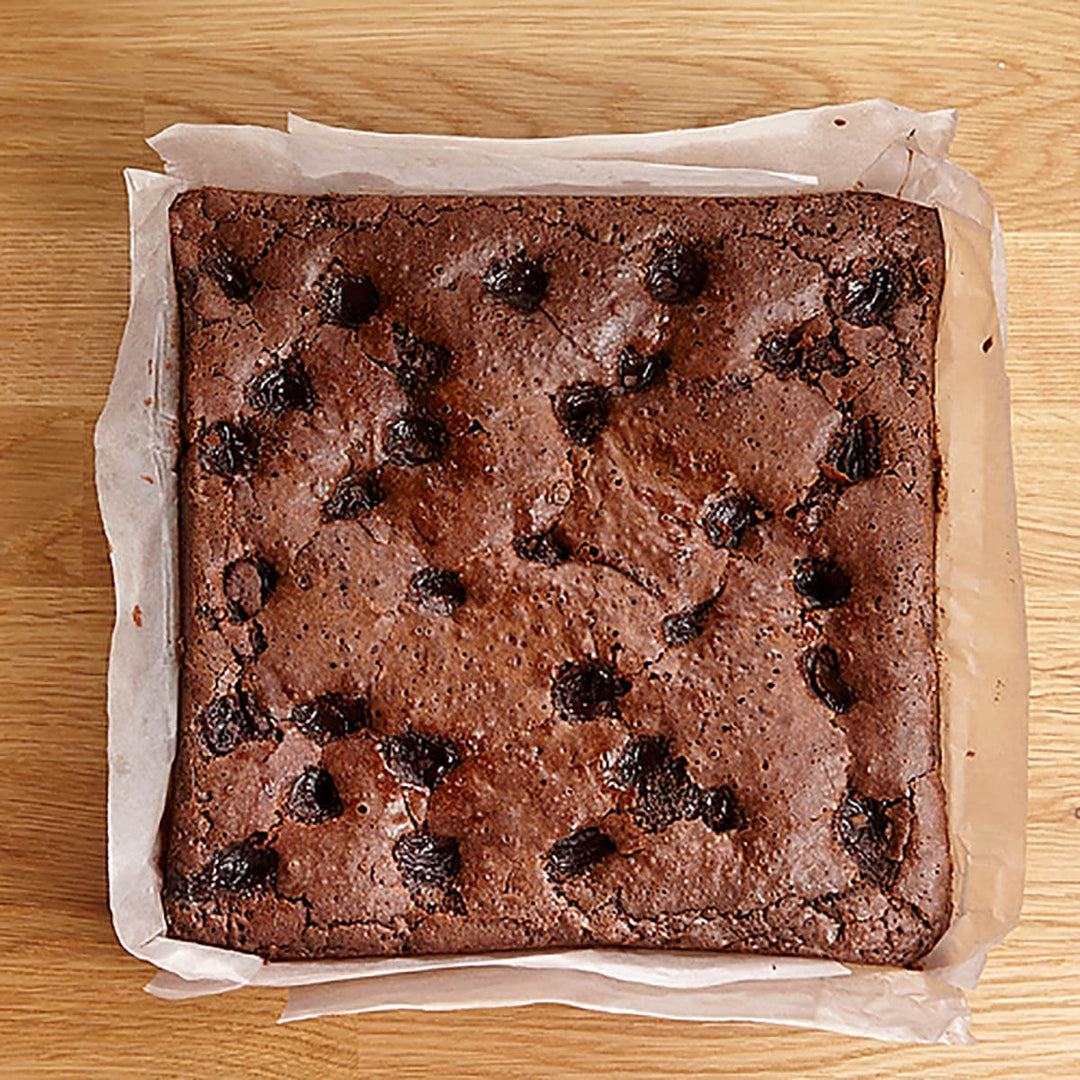 Only dark, sweet cherries are selected for an incredible, almost Black Forest cake feel to this brownie. This brownie is one of our originals that were created in 2014 and we cannot imagine being without this one!
We love biting into the juicy cherries and we reckon you'd fancy that too! May we suggest a scoop of vanilla ice cream with this? You're welcome!
Photos are for illustration purposes only. The design is subject to change
About Dark Cherry Brownie
We have been serving this Dark Cherry Brownie since we opened our first brick-and-mortar store in Crawford Lane back in 2014. I have always loved Black Forest cake because of the combination of cherries and chocolate but I don't necessarily fancy so much the cream and sometimes mousse that come with the cake. I also prefer cake with more crumb and with a bite to it, not so much featherlight, chiffon cakes. So I made a brownie version instead and it turned out to be a such a keeper. Brownie + cherry FTW!
All Things Delicious serves halal-certified classic cakes, cult-status scones, pastries and food at their restaurant and bakery at 34 Arab Street. We make hand-crafted classic cakes such as butter cakes, pound cakes, sponge cakes, brownies and loaf cakes with pride containing only the best ingredients without any artificial colouring or artificial flavouring. We use European lactic butter, unrefined sugar and cage-free eggs.
#welovewedoweeat
Allergens
EGG, MILK, SOY and WHEAT
This cake is made in a facility that handles dairy, peanuts, sesame, shellfish, soy and tree nuts.
Best Served
The Cherry Brownie is best served at room temperature. This brownie keeps fresh for up to 2 days in the fridge. Always store brownie in air-tight containers or well cling-wrapped to protect from drying out.
This sizing guide page is exactly what you need if you're looking at having a celebration cake, tea-time treats, dinner for an event, gathering, wedding and many more! While the cake flavour and design are important components of a cake, one of the most important aspects of a cake is its size. The chart below is based on baking and serving recommendations from All Things Delicious, all sizes and suggestions are approximate, results may vary.
Want to know more about our cakes and what customisations we offer? Find the answers here!
What's the weight of your cakes?
Our cakes are based on size. Different cakes weigh differently even if they are the same size.
What cake sizes are available?
Most of our cakes come in 5", 7", 8" and 9" sizes. You may choose the size you prefer on each product page. We do customized two or multi-tier cakes too. Please email us for assistance.
Can you make a square cake, instead of a round one?
We may be able to make some round cakes into squares for an additional fee. Please email us for assistance.
Can you pipe a message on the cake?
Yes, we can upon request. All piping is limited to 20 letters/characters. When ordering online, you can specify the piping text on the product page, before CHECKOUT.
Can you provide candles with the cake?
Yes, we can upon request. When ordering online, you can specify the candles required on the product page, before CHECKOUT.
Can you provide a cake knife with the cake?
Yes, we can upon request. When ordering online, you can specify the cake knife required on the product page, before CHECKOUT.
Do you have cake toppers?
Yes you may opt to buy a cake topper here.
Can you reduce the sweetness of your cakes?
All our cakes are generally made less sweet and have a balanced taste. We are unable to customise our recipes.
Do you cater to special dietary requirements?
We do not cater to any specific diets. All our cakes contain dairy, eggs and unrefined sugar. We do not use any artificial colours or flavours in our products. At the moment we offer two gluten-free cakes, the Dark Chocolate Torte and Flourless Chocolate with Hazelnut Creme. Both cakes are made without any flour, wheat or otherwise.
Do you make fondant cakes?
No, we do not work with fondant.
Can you make character cakes or themed cakes?
No, as such cakes usually require artificial colours and use of fondant, both of which we do not offer.
Do you do wedding cakes?
Definitely and we love weddings! Click here for more information.
Do you provide cake tasting sessions?
We do not provide cake tasting. Do order your desired cake slices via our website or simply visit our flagship store to try out our delicious treats!
Can I customise the design of my cake?
Limited customisation is possible on our existing designs for an additional fee. During peak seasons such as Chinese New Year, Hari Raya and Christmas, we are unable to do any design customisation on our cakes. Please email us for assistance.
Can't find the answer your are looking for?
Check out these other FAQ pages:
Or contact us here.
One of the best brownie
Was pleasantly surprised with the use of fresh cherries for this brownie. Just with right sweetness. The fresh cherries adds a nice hint of tartness which was delightful. The brownie was fudgy with the right density. Will definitely order again.