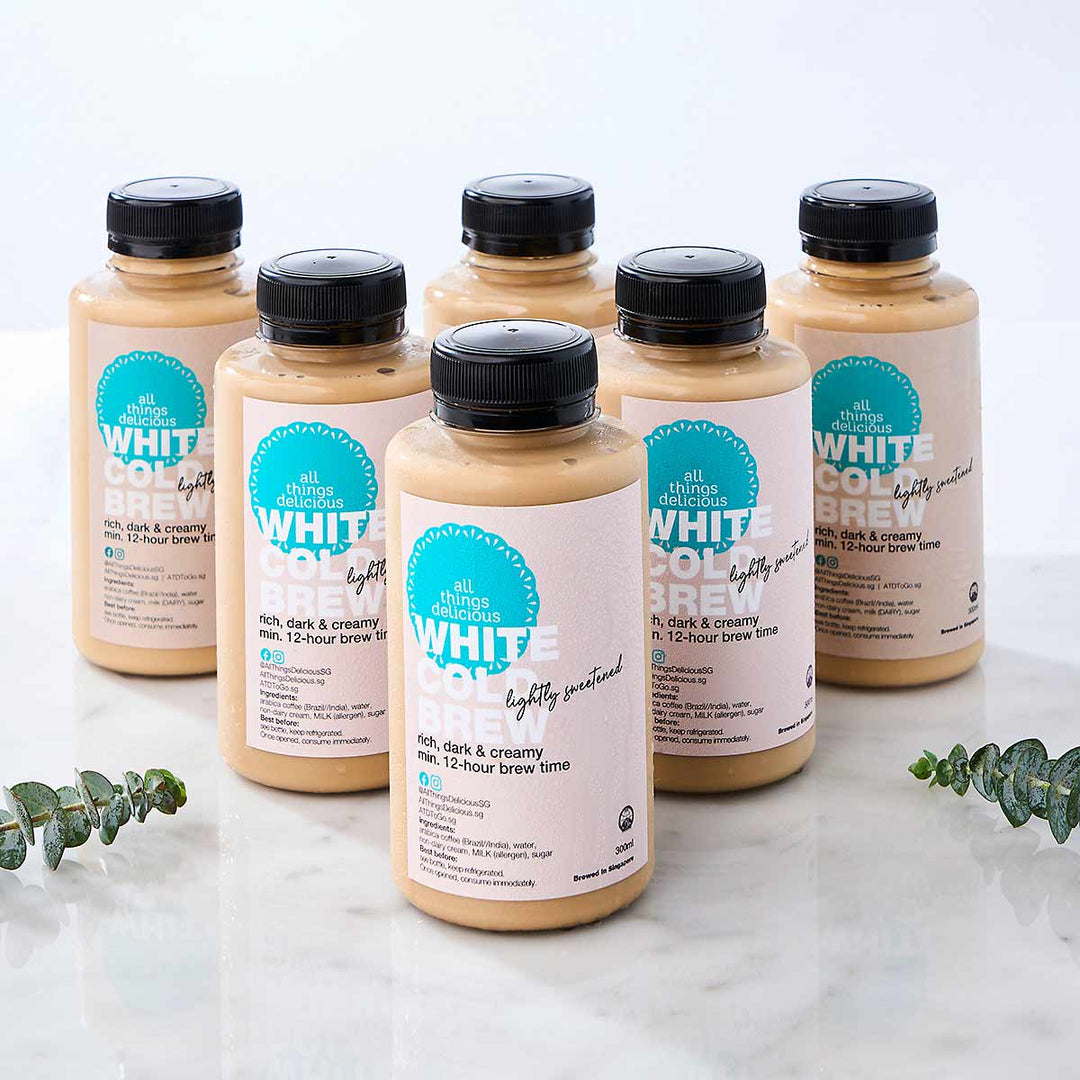 Our White Cold Brew is made using the same beans but with added cream and is lightly sweetened with unrefined sugar. It is rich, dark and creamy and will definitely be your new favourite at All Things Delicious.
All of our cold brew coffees are handcrafted and steeped with freshly roasted coffee beans for a minimum of 12 hours.
Each pack contains 6 x 300ml of cold brew.
Ordering online is a breeze! Here, we answer your top questions about shopping in this site.
How long in advance do I need to place my order?
Do order at least 3 days in advance. We recommend 2 weeks notice for customised items - this is only a guide and will be subject to available slots.
Are your prices inclusive of 8% GST?
As a special offer for our online store customers only, we include 8% GST on the prices displayed for all the products on this site. Orders placed via email or telephone which need to processed manually will NOT be entitled to this benefit.
Are your prices inclusive of delivery fees?
No, the prices do not include delivery fees. Our delivery fee starts from $14.90 per location. For Pick Up and Delivery FAQs, click here.
What are the payment methods?
Our online store accepts credit and debit card payments. In-store payment options include cash, credit cards, AMEX, NETS and Grabpay.
Can I pay upon collection?
All payment must be made online upon CHECKOUT via our website.
How do I place an order?
Simple! See something you like on this site? A few clicks are all it takes!
Step 1: Click ADD TO CART
Step 2: Proceed to CHECKOUT
Step 3: SIGN UP for an account
Step 4: Choose pick up or delivery DATE & TIME SLOT
Step 5: Fill BILLING and/or SHIPPING details
Step 6: Proceed to PAYMENT
Step 7: YOU ARE DONE! Look out for an email shortly with a confirmation of your order.
I didn't receive any email confirmation. Is my order confirmed?
Sometimes these auto-generated emails end up in the junk mail folder. Please check that folder for the confirmation email.
The order confirmation is sent by hello@allthingsdelicious.sg and the subject line mentions "Order #WSxxxx confirmed", where xxxxx is your actual order number.
If you did not see the confirmation email at all, please
email us
and mention your order number, or the order date and email address you used.
Any update to my order delivery date + time?
We've included a convenient date and time picker on the Cart Page, so you can tell us when to deliver or pick up your order.
Available dates and times on the Cart Page can change throughout the day, often based on actual order volumes and the capacity of our kitchens and delivery service.
If you choose your preferred date and time slot, but delay your actual check out and payment, your preferred date and time may no longer be available when you complete this payment.
When that happens, our system will automatically pick the first free date + time slot for you and will update the order status page right after the order has been placed.
Be sure to check the confirmed status of your order, and feel free to ask us if you have any questions.
How do I track my order?
You can't. We are a small company and do not offer such tracking facility. However, a quick email or call to 6291 4252 with your order number WS-XXXX and we can check for you and let you know.
Can I order through the phone?
We do not recommend ordering over the phone.
There's an issue with my order, who can I contact regarding this matter?
Please drop us an email. Alternatively, you may call us at 6980 3277 from 9:00 am to 5:00 pm during weekdays and please quote your order number WS-XXXX.
Can I cancel my order and get a refund?
No cancellations are allowed if we are notified less than three days from pick up/delivery date. All other cancellations will be considered case-by-case. All refunds will be made via store gift card valid for 2 months.
Can I postpone my order?
No postponements are allowed if we are notified less than three days from pick up/delivery date. If you have yet to decide on the postponed date, the amount will be credited back to your account as a store gift card valid for 2 months.
HELP! I need something last minute, can you help?
Certainly! Please check out our same-day pick up and delivery site ATDToGo.sg for what is available TODAY.
See our Location here.
Can't find the answer your are looking for?
Check out these other FAQ pages:
Or contact us here.